Stress and Chaos.
Emotions we'd all prefer to avoid, but when staging your home to sell, most would agree that a certain amount of stress-induced
pandemonium is inevitable.
Organization and good planning will alleviate a fair amount of house-prep stress, and good strategy is a real sanity saver.
Keep in mind that real estate markets differ from place to place, but one thing remains the same no matter where you are: people love beautiful things. Staging your home before listing it gives you that edge you need to sell your house quickly and for the best price possible.
Be it awkward, small, or just plain boring, your house can be transformed with staging strategies that maximize the space you have and even get people excited about sitting in your uninviting, misshapen living room that no one ever uses.
First Impressions
When you walk into someone's house, what are the first things you notice? The heady scent of dog dander, overflowing shelves, cluttered surfaces… maybe that ratty couch that's been stealing the show from the beautiful wood floor?
Here are some things you can do to bring out the very best in your home before putting it on the market.
Purge The Clutter
Every surface in your house should be clear of clutter. Things like mismatched photo frames, knick- knacks and tchotchkes – anything else laying around that detracts from the beauty of the house.
Be aware of the following: stacks of papers, magazines, too many plants, unnecessary furnishings, toys, kitchen counter clutter, shoes on the floor, and unruly bookshelves. All things that can make a space look messy.
Clean. Clean. Clean.
Though a dirty bathroom doesn't change the integrity of your house, it's a real turn-off. Prospective buyers can be short sighted and fickle, letting minuscule details like footprints on the floor or dirty cabinets sway their decision.
Fix It Up
That loose doorknob that jiggles all around? Fix it. Missing a section of trim in the bathroom? Fix it. Those mismatched and paint-stained switch plates? Please fix.
When you've lived in the same house for a handful of years, you get used to the idiosyncrasies and little things that need attention. Prospective buyers have fresh eyes and will spot these items faster than you can say "loose screw."
Create Ambiance
Everything in your house sends a message and you'll do well to appeal to a diverse demographic. This is best accomplished by creating neutrality and consistency within your space.
Consider Painting
Refresh the old and cover the bold. That's not to say that bold colors aren't amazing but pleasing the masses requires some subtlety. Neutral colors showcase the house's features and are appealing to both men and women.
No Stinky Stuff
Smelly environments can be the worst kind of offender. Do your best to avoid cooking odiferous foods, place kitty litter, dog beds and the like out of site, and avoid strong perfumes, air fresheners, and anything else that might offend the senses.
Geometry Matters
Have you ever walked into a space and thought, "Wow… this feels awkward… I think I'll just keep moving?" Believe it or not, there exists a geometric sweet spot – certain dimensions of space that appeal to the human eye.
Does your house contain an odd-shaped room that's impossible to furnish? Arranging furniture in a crafty manner with strategic pieces can fix this and help your space achieve the coveted sweet spot.
Pull It Together
Your house should flow from one room to the next and if you're serious about selling, it's got to look and feel good to potential buyers.
Furniture
Bringing in fresh furniture can breathe new life into a boring or unappealing space and rid your house of that gross couch that Rover and Scruffy love so much. Choose pieces that showcase the features of your house and leave room for "white space", or empty areas that appeal to the eye.
Accents
Red, chartreuse, peacock blue… bright accent pieces have major impact. If you have a neutral color scheme throughout the house, try peppering main spaces with boldly hued accent pieces like pillows, vases, or art.
Minimize
Out with the old, and in with the new. Don't go overboard – remember, when you minimize a space, you give the buyer's eye a chance to appreciate the feel and vibe of the house. To determine what stays, what goes, and what new items to bring in, look at a home furnishing magazine and study the layouts of their design sets. This will guide your process.
And Finally…
The curb appeal. Don't underestimate the power of trimmed hedges, tidy, thriving grass, and a clean yard. Hide that plastic blue baby pool and rogue toys, pick up after your dogs, and take care of any visible junk or trash.
If your staging budget allows, spruce up chipped paint, wash the windows, and gussy up your front entry. Cobwebs, wasp nests, weeds – clean it all up and when buyers come calling, they'll see is a tidy and well-kept space.
Selling your home can be a long and frustrating process and if you want to get top dollar, staging can make it a beautiful space where they can see themselves living.
Staging a beautiful home makes for happy buyers.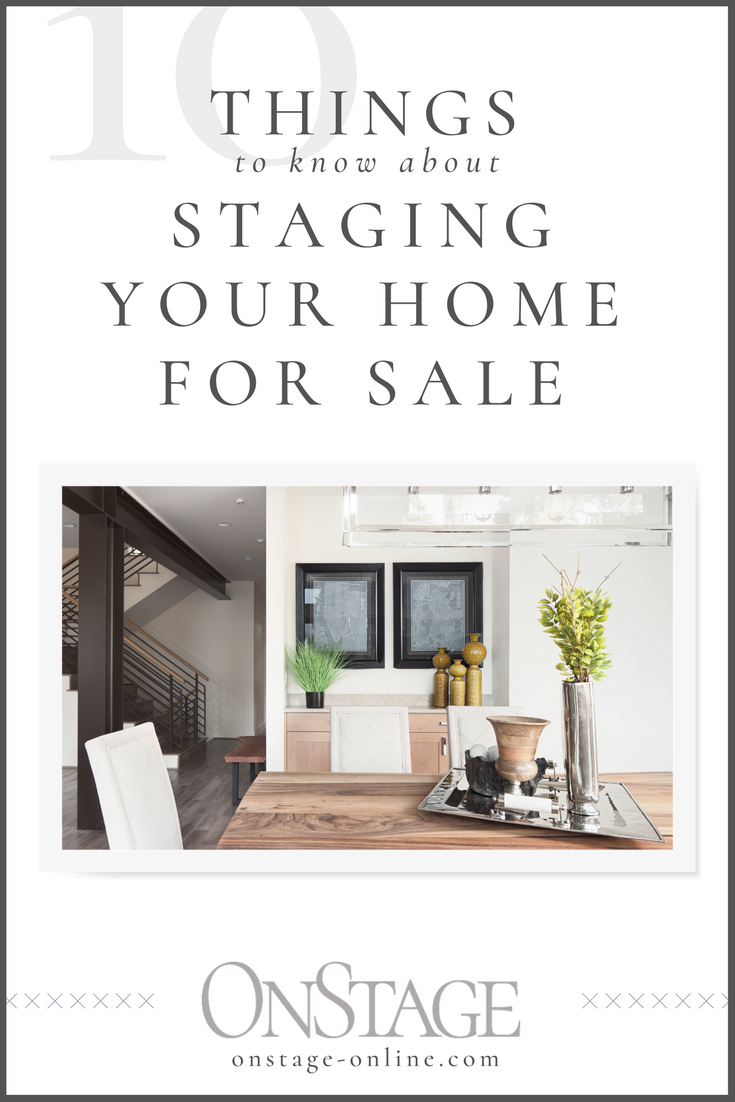 Save
Save
Save