Delight In The Ambiance
Does an orderly hall closet full of labeled bins, cozy containers, and perfectly stacked towels bring you joy? Then these 9 clever tips for an organized home are just for you!
Organization reigns supreme when it comes to feeling good in and about your home. Humans are a sensitive lot and in addition to the trials, tribulations, and triumphs of everyday life, many of us can be deeply affected by the surrounding environment in our home.
Clutter begets irritation and a nagging sensation of low-voltage annoyance.
Experience the awe of an orderly space, free from eyesores like tiny villages of paper stacked on mournful tables, hair products jockeying for position on your spatially challenged bathroom counter, and of course, the closets. Purses, hats, band aids, cough syrup, belts, spare change, and maybe even a dead moth or 2… Closets are the of the worst organizational offenders.
Let's not even talk about the junk drawer.
Toss It Or Tame It
What to do?
The first and hardest step towards an organized home is to purge. Summon your courage, go through all your stuff, and rid yourself of the things you don't need. Expired medicine, shoes you haven't worn in 6 years, old, ratty bath towels… get rid of it all!
Next comes the fun –  organization!
Depending on your personality, there are different levels of organization, and we recommend you start with an easy, uncomplicated system that's easy to maintain. Alphabetizing your spice drawer isn't the best use of time if you've got a disaster on your hands
We'll start with organizational methods tried and true, and mix it up with a few experimental tips
But first…
The Problem Areas
Closets: Including, but not limited to pantries, bedroom closets, linen closets, hall closets, and storage closets, these small spaces are repeatedly found guilty of disorderly conduct and the bane of a well organized home.
Drawers: From bedroom to kitchen and don't forget the bathroom, drawers are keepers of chaos and powerful adversaries. Be on your guard with these ones.
Desks & Tables: Accessible and ready to perform, these surfaces beckon to bills, keys, and miles of random paper. It's just too tempting.
Save The Day With Solutions That Work
The options are endless with these fun choices because, as most people know, you can practically hang anything and if you can't hang it, there's a bin for that…
Pegboard, an ever-versatile companion, is a top choice for many reasons. From workrooms to closets, this basic and cost-effective material can be purposed for hanging jewelry and scarves or for homework and bills. It's brilliant in its raw form, but easy to gussy up with paint. Hang bins full of your favorite perfume, or tiny shelves that latch right on for quick access to things you use every day.
Wire can be elegant, industrial, modern, or cozy-cottage. String it up on walls or find other creative ways to harness the power of underutilized wall space. Use little clips for notes, grocery lists, bills and homework or use it on the back of your closet door to hang ties, scarves, hats, and more. If you can hang it, wire is a solid choice.
Pipes are the lesser-known, sturdier cousin to our good friend wire. Mount sections of pipe to your kitchen backsplash, on the back of closet doors, or anywhere else that needs organizational assistance. Select stores sell all you need from the actual pipe to mounting hardware and hooks, shelves, and baskets. Truly a wonderful solution that looks sharp and works wonders.
Bins, Bins, and More Bins. What can be said about bins that hasn't already been said?
They're easy, they're affordable, and they hold most anything. Pick from a huge assortment of sizes, materials, and colors. Label them to your heart's desire. Shove them in the storage room or place them lovingly on a shelf to display. You simply can't go wrong.
Things That Hang can be the most visual-friendly way to an organized home. Get creative by using a hanging plant pot as a cute and clever way to store anything from art supplies to socks to fruit. Don't forget the versatile and insanely useful hanging shoe cubbies. Use the ones with clear plastic so you can see what you've stashed and avoid the exasperating process of digging around for that one little thing. When all else fails, look to plain old nails as impromptu hooks for bags, accessories, and jewelry. So simple!
Don't let your home overwhelm you! With a little time and some old-fashioned sweat equity, you can have a well organized home. You'll feel better, your space will look better, and best of all, you'll know where to find each and every item that used to be buried, stuffed, or shoved where the sun don't shine.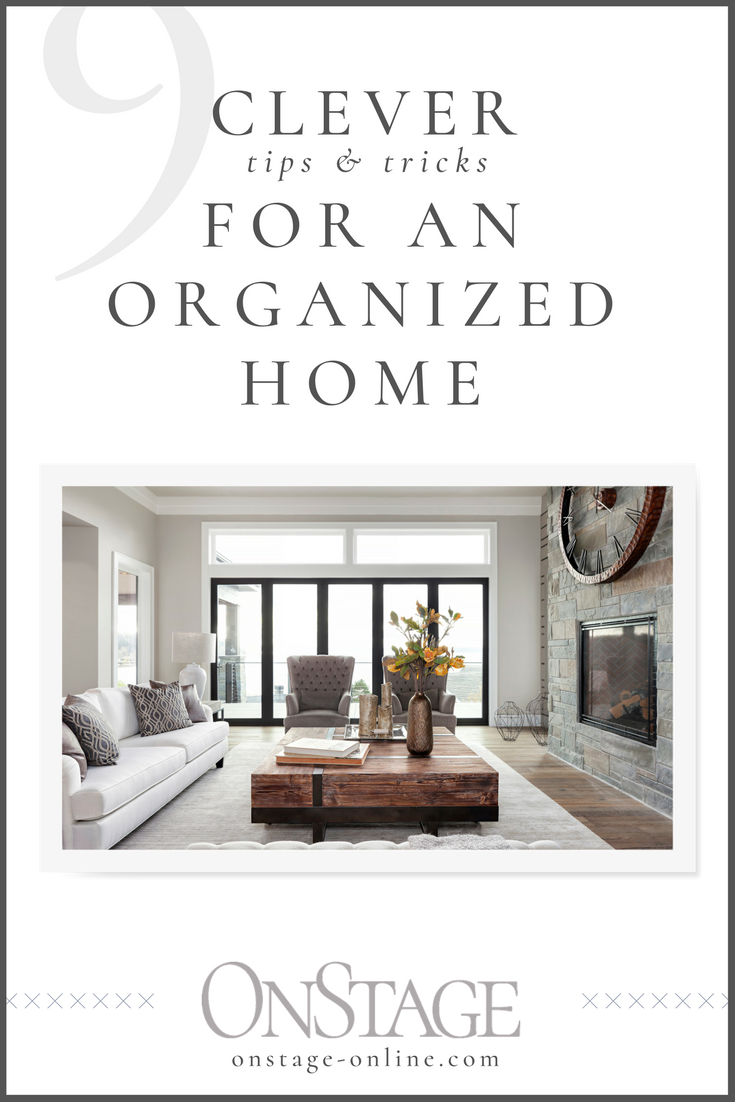 Save